Midlands Dampproofing
We are a LOCAL company offering AFFORDABLE damp proofing and timber treatments throughout the East Midlands, West Midlands and South Yorkshire.


Run by experienced and knowledgeable staff, we offer affordable solutions and long term GUARANTEES.
We have access to full technical assistance, and can also provide full laboratory analysis, if required.

We offer FREE surveys to homeowners, estate agents, letting agents, councils and corporate clients. We always provide a full written report and any remedial works will be clearly identified and a written cost of works provided.

Home Buyers - if you're purchasing a residential property and suspect it may have damp or timber issues we can provide a damp and timber report for JUST £75.00!
CLICK for WebSite ! ! !
[
www.midlandsdampproofing.co.uk
]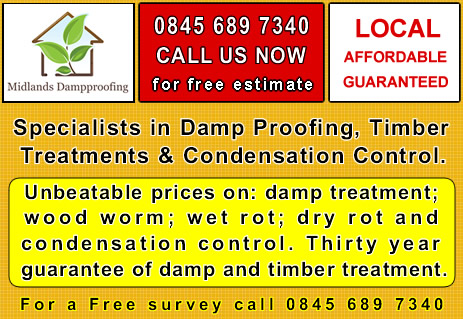 ---
Edited 2 time(s). Last edit at 09/21/2012 12:57PM by dave.
Sorry, only registered users may post in this forum.