L
EICESTER DRIVING SCHOOL 4 U
Take an intensive course and pass your driving test in a short space of time.

Our Driving School
Leicester Driving School 4u has been formed to bring together the skills of both female and male driving instructors to deliver a high standard of tuition to its pupils. Our aim is to deliver training to help you pass your driving test. Our instructors are fully qualified.
Jane Orme is the proprietor and currently trades under the name of Jane Orme Driving. She is based in Whetstone and gives driving lessons in Leicester and the surrounding villages in South Leicestershire, as well as Whetstone, Wigston and South Wigston.
Take an intensive course and pass your driving test in a short space of time.
Pass Plus lessons are available for newly qualified drivers enabling them to gain further experience.
Refresher Courses or Motorway Courses are a good way to rebuild your confidence if you are a bit rusty or have not driven for a while.
Driving Lessons
If you are looking for driving lessons we offer a range of services for anyone wanting to learn to drive and also for those who are a bit rusty and want to brush up on their driving skills. If you have just passed your driving test then we can offer you a Pass Plus Course or you might just want to take a motorway lesson. Refresher lessons are a good way of polishing up your driving skills if you have not driven for a while or you have lost your confidence.
For the complete beginner we offer free help and advice for the theory and hazard perception test, and we now offer an all inclusive price for an hour and a quarter lesson. Normal 1 hour driving lessons are available too and there are discounts for block bookings. Just check out our prices.
Looking for a female driving instructor in Whetstone?
Jane Orme Driving Instructor
8 Charlton Close
Whetstone
Leicester
LE8 6ET
mobile: 07761 595258
Freephone 0800 907 8504 Mobile 07761 595 258 email
leicesterdrivingschool4u@gmail.com
We share our top five learner driver tips with you
Below we share our top five driving tips for you. Look here for further tips on learning to drive and passing your driving test.
Theory Test
Ensure that you read the Highway Code and it is a good idea to read 'Driving The Essential Skills. See our recommended reading list.
You can purchase books which contain questions similar to the ones you will get on the theory test. Read a section at a time and make a note of the questions that you get wrong so that you can revise them.
For the hazarad perception test there are many website offering free trial tests so check them out. Also, it is a good idea to purchase a dvd from the DSA so that you can practise more video clips.
Manoeuvres:
Observations
Control
Accuracy
The key to a good manouevre is ensuring that you do your observations throughout the
manoeuvre. Be aware of what is around you.
Keep the car under control by using the clutch at or slightly below the biting point
and only using the brake very gently.
Ensure that you do not touch the kerb or mount the pavement when doing the manoeuvre
and keep reasonably close to the kerb General Driving
Look well ahead when you are driving. You will also need to look in the near distance and check your mirrors on a regular basis to see what is behind you and at the side of you.
Be extra careful when dealing with vulnerable road users such as elderly pedestrians, children, cyclists and motorcyclists. Independent Driving:
Listen to the instructions given by the examiner or your driving instructor.
Repeat them back
Ask at any stage of your lesson or the driving test if you are not sure of the instruction or you have forgotten
If you get into the wrong lane, don't suddenly change lanes without first checking your mirrors and to see if it is
safe to move, and then giving a signal
If if is not safe, go in the direction of the lane you are in
The Driving Test
Remember to take all your documents with you on the day of your test. It is a good idea to put them in a safe place the night before the test so that you can find them easily when you go to the test centre.
You will need your driving licence, counterpart and the theory test pass certificate.
If you have lost your theory certificate ring up the DSA and request the number. That should be sufficient for the examiner at the test centre.
It is a good idea to have the appointment letter or email confirming the test date and time as well in case you have got the wrong day!
Pass Your Driving Test in Leicester
If you are taking driving lessons in Leicester and want to pass your driving test in Leicester we can help you. So book your driving lessons with us today.
What happens when you arrive at the test centre?
•When you arrive at the test centre you will be taken to the waiting room until called by your examiner, who will introduce themselves to you and get you to sign a declaration. Once you have signed the declaration you will be taken outside and asked to read a number plate. The distance requirement for the eyesight test is:
• 20 metres for vehicles displaying the new-style number plate
• 20.5 metres for vehicles displaying old-style number plates
If you can't read the first number plate correctly, you'll be asked to read a second number plate.
You will then be asked to go to your car and you will be asked two show me tell me questions or safety questions. Failure to answer either question correctly will result in a driver fault. The examiner will then explain a little bit about the test and what is expected of you. If at any time you have not heard or misunderstood the examiner's questions ask them to repeat the directions.
The driving test will last between 38 and 40 minutes and will include a wide variety of roads including dual carriageways, roundabouts, bus lanes and one way streets. There will be 10 minutes of independent driving and you will be expected to carry out 1 manouevre and possibly the emergency stop. Drive ahead at all times unless the road signs and markings direct you otherwise. Your examiner will tell you in good time when they want you to turn left or right.
Pass your theory test in Leicester
If you are taking driving lessons in Leicester and want to pass your theory test in Leicester we can help you. So book your driving lessons with us today. We give free tuition on the theory and hazard perception test.
What happens when you arrive at the test centre?
Ensure that you take the relevant documents with you when you go to the test centre. You will need both parts of your driving licence and your appointment letter. When you arrive at the test centre with your documents you will be shown to a booth which has a computer and headphones. This is where you will take the theory test. You will be given instructions on how it works and there will be an opportunity to try out some practice questions before you begin the test. Take your time and read the questions carefully. Do not rush into giving your answers. Any questions that you are not sure about can be flagged and you can come back to them later on.
There will be a short break before you go on to do the hazard perception test. Make use of the break to prepare yourself mentally and this will allow you to focus on the clips that will follow. You will be shown 14 clips and there will be 15 hazards to identify. One clip will have a double hazard.
CLICK for WebSite ! ! !
[
www.leicesterdrivingschool4u.co.uk
]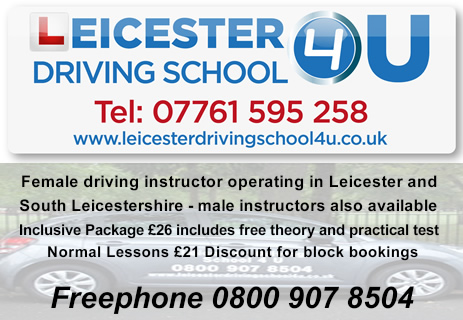 ---
Dave - NgTrader
Edited 4 time(s). Last edit at 07/18/2012 06:34AM by dave.