GaleForce

MultiMedia

- AV Sound & Lighting Specialists
AV, PA Sound Systems & Lighting, Sales, Hire & Installation
Great for Schools, Churches, Business, NHS, DJs, Home Users and more.....
NEW SHOP OPEN NOW ! ! !
Please visit our new shop at 45 - 47 Westdale Lane, Nottingham. NG4 3JN. We are stocking a range of musical instruments (Stockist of Tanglewood Guitars) as well as projectors, sound systems, lighting and staging. We are open Monday - Friday 9:00am - 5:00pm and and Saturday 9:00am - 2:00pm
We are your No 1, one stop supplier of Audio Visual Sound and Lighting to Schools, Businesses, Churches, DJ's, NHS, and many other end user applications. We supply all of Nottingham, East Midlands, England, Scotland and Ireland.
FREE delivery
FREE delivery on all orders over £99. Just £5.99 for orders under £99.00. Please note an additional charge applies for orders under £19.99. Want to save extra cash? Pay by debit card. Contact us for more information
Accounts
If you would prefer to pay on account please contact us with regards to setting up a credit account.
HIRE NOW AVAILABLE ! ! !
CLICK for WebSite ! ! !
[
www.galeforce.org.uk
]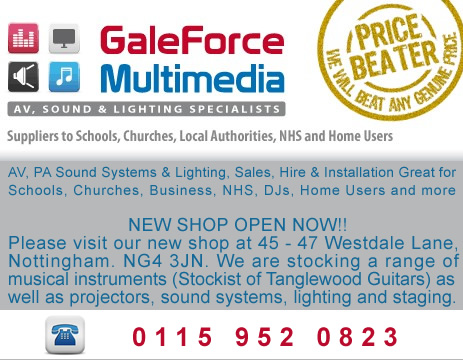 ---
Edited 24 time(s). Last edit at 04/15/2012 06:34PM by dave.